Board
President
Anna Christina Kubitschek Barbará A. Pereira
Vice Presidents
Felipe Octávio Kubitschek Barbará Alves Pereira -
Paulo Octávio Alves Pereira
Advisors
Alejandra Patrícia Kubitschek Bujones
André Octávio Kubitschek Barbará Alves Pereira
Carlos Murilo Felício dos Santos
Dácio Barbosa Silveira
João César Kubitschek Lopes
Júlia Diana Maria Kubitschek Barbará Albarran
Jussarah Kubitschek Lopes
Maria Estela Kubitschek Lopes
Marta Maria Kubitschek Lopes Linder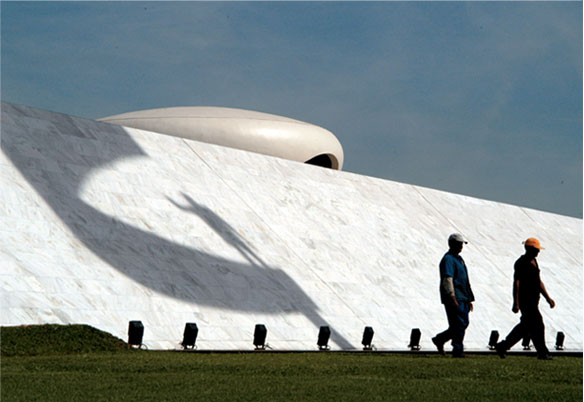 Anna Christina took over the Memorial in October 2000. The new century was coming and the Memorial received an injection of youth. Anna Christina realized the need to prepare the museum for the new times. Based on the original design by Oscar Niemeyer, she implemented a complete restoration of the auditorium, which became lighter and more pleasant, and the restoration of the water surface and its cascades that had long been disabled. On April 21, 2001, she inaugurated the new external illumination of the Memorial, made possible through the project "Reluz", which promoted a rigorous inspection in the electrical and hydraulic installations, and valued the design of the architecture and the monument. The collection was reorganized and computerized, with a complete database, facilitating access for students and tourists in learning historical facts about President Kubitschek. More than 200 objects were incorporated into the permanent exhibition of the Memorial. The renovation included a new exhibition design, the development of more structured galleries and new panels that make the visit much richer. The modern "back lights" increased the quality of the photographs on display and new videos were added to the Museum.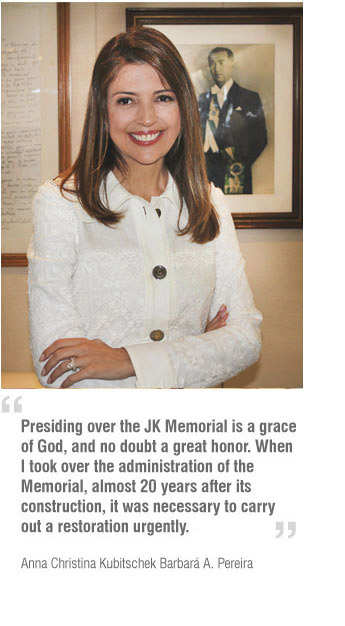 There was a substantial increase in the number of publications promoted by the new Presidency and new folders, a portfolio on the work of Dona Sarah, and the book "100 Years of the Life and History of Juscelino Kubitschek," especially designed for children. Perhaps because of a focus on child-friendly exhibits, we can highlight, in recent years, a considerable increase in visits from schools and children's groups to the Museum.
To celebrate the centennial of President Kubitschek, the artist Darlan Rosa distributed in the Memorial garden sphere sculptures in poetic form made of carbon steel that refer to fragments of the history of Brasilia. Following a trend of the most important museums in the world, since 2002 the JK Memorial adhered to the Music in the Museum project, which aims to integrate music to visual arts and other cultural events. The project brought to the public from the capital the best in Brazilian music. With the revitalized area, the JK Memorial rediscovered its mandate: to continue multiplying the repertoire of images and memory, occupying a strategic role in culture and ensuring the preservation of the history of President Kubitschek.